How To Use The Correct Business Letter Format
Be a Professional: Use the correct business letter format.
The way a business letter looks immediately gives the reader their first impression even before they read it. The quality of the paper, letterhead design, the margins, spacing and more all have something to say about the organization.
A weakness in any of these elements can detract from the effectiveness of the message, even though it is expertly written. To put it simply, you look unprofessional.
I have a long list of the elements of the formal business letter format below. There is also a few samples with all the elements highlighted for easier reference.
Common Business Letter Format Elements
The following example contains the most common elements in a professional business letter format.
For easier reference, the letter in the infograph above.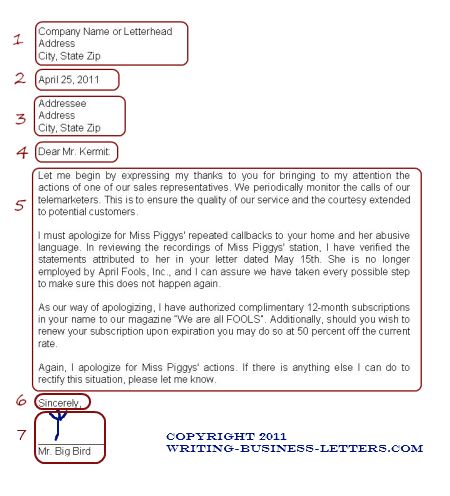 1: Your own address.
In most business situation, you will be using your company pre-printed letterhead. If you are using a blank paper, then type out the address.
2: Date Lines
Place the date at least two spaces below the letterhead. The line may be flush left or right, or centered below the letterhead.
Do not abbreviate the month or use nd, st, or th with the day numbers, like May 5th, 2011. Also, do not use a month's number, like 6/23/11.
Both date orders listed below are appropriate; however, the latter is used mainly by the government, the military, and those outside the United States.
December 10, 2010
10 December 2010
3: Receiver Address
Type the receivers address in this section.
Addressee
Address
City, State Zip
Make sure a person's name is spelled correctly. A recipient may decide to ignore a letter that was written by someone who cannot spell his/her name.
Do not use both the title and the degree of a person. For example, write either Howard Wyatt, D.D.S. or Dr. Howard Wyatt and not, Dr. Howard Wyatt, D.D.S.
Two or more men are addressed as Messrs., which means Misters. Do not use first names with this abbreviation.
Messrs. Smith, Wyatt, and Fury
Two or more women are addressed as Mesdames, Mmes., or Mses. Do not use first names with these abbreviations:
Mses. Farb, Lionel, and Gray
When addressing couples, give both appropriate titles:
Dr. and Mrs. Harold Wright
Mr. Harold Wright and Dr. Margaret Wright
Drs. Harold and Margaret Wright
Dr. Margaret Wright and Mr. Steven Jones
Mr. and Mrs. Harvey Adams-Quinn
Ms. Margaret Wright
Mr. Steven Jones
In selecting a title, always notice the way an individual identifies him or herself. For example, some who hold degrees do not use their titles while others do.
Some married women prefer Mrs.; others prefer Ms. If you do not know the title the woman prefers, use the standard Ms. or drop the title altogether:
Place the inside address at least two lines below the date.
Place a person's title after his name unless it is unusually long, then go to the next line.
Ken Green, President
Ken Green
Vice President of International Operations
The comma before the abbreviations Jr. and Sr. is optional.
Michael Jordan, Jr.
Michael Jordan Sr.
4: Salutation
Always use the name of the individual if you know it.
Dear Amy: (personal friend or close business associate)
Dear Mrs. Rider:
Dear Miss Spears:
Dear Ms. Tyler: (use Ms. If you don't know the marital status or the preference)
Dear Mr. Farnham:
Dear Dr. Doom:
Dear Sir Elton John:
If you don't know the name of the individual, address it to the individual's title in the company and then use dear Sir or Madam: Here is an example:
Head of Human Resource
ABC Company
123 Sesame Street
Dear Sir or Madam:
But please only use this if you really cannot find out the name of the person. Most companies will tell you who the person is. All it takes is a phone call. It is also quite easy to find this information on Linkin these days.
If you are addressing to an organization and not an individual, then use the following:
Ladies and Gentlemen:
And if you want to highlight the letter to an individual(s) in the organization, use the attention line as follows:
Attention: Miss J. Fonda, CEOand Mr. M.Jackson, CFO
Ladies and Gentlemen:
5: Letter Body
This is the body of your letter. The rest of this site explains more about how to write effectively for each type of letter you want to write. I try to cover how to write the body effectively so that you can get your message across and achieve your objective.
6: Complimentary close
For a normal business letter format, I prefer to use Regards, Sincerely, and Sincerely yours. Other acceptable formal business letter close includes Cordially, Cordially yours, Very sincerely yours, Very cordially yours, Yours very truly, Very truly yours and if the person is of high stature, Respectfully yours.
7: Signature
Do use a title (Mr., Miss, Ms) to indicate your preference and you gender and give you First and Last Name.
Your official business title goes under your name. This is optional and depends on how serious you want to be. For example, a formal employment offer letter would require one.

The Paper
I recommend using the 20lb for normal use and 32lb for important letters like resume cover letters and thank you letters.
Color: White is the standard and should usually be used. Light tints (gray, blue, green, etc) are also becoming popular.
Size: To me the Letter or A4 are the only acceptable sizes. There are other sizes but I don't recommend it unless you are in the creative field or you are trying to capture attention for a sales letter.
Layout
In a business letter format, there are many layouts; the three most popular are the semi-blocked, blocked and full-blocked. Below are samples of how these layouts will look like on a two page letter. (click on the image below to see the samples)
Whatever layout you wish to use, it does not really matter. As for me, I prefer the blocked simply because it is easier to type on the computer.
Margins
Left and Right 1 Inch
Top and Bottom 1 ½ Inch
Spacing
Most business letters using the correct business letter format are single spaced. Use double space for short letters. Leave one blank line between paragraphs, 2 Blank lines before the complementary close (i.e. Sincerely) and 3 to 4 lines for the signature.
Envelopes
Make sure the address on your envelope is easy to read so that it does not get tossed in some mail room. Place the address just below the vertical center and just to the right of the horizontal center.
Any special instruction such as "Personal," "Please Forward," or "Confidential," goes on the left side of the envelope below the return address. Place an "attention line" directly below the company name on an envelope.
Confidential: Ms. Susan Johnson
Make sure the address on the envelope is written so that a postal worker can read it at a glance.
When both a street and a post office address are given, the postal service will deliver your letter to the address that appears directly above the zip code.
On the envelope address, type the names of foreign countries all in caps.
Spell out all numerical street names from one to ten.
127 Ninth Avenue, North
127 E. 15 Street
Five Park Avenue
One Wingren Plaza
Use a hyphen between street and residence numbers.
556 - 91 Street