Sample Business Letter
If you find the sample business letter below useful, please share it with your friends by clicking on the buttons above.
---
This business letter was written to a vendor because the order for 300 t-shirts was refused. It is written on the company letterhead.
---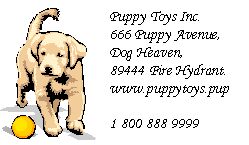 15th February 2011
Mr. Clark Kent,
ACME Printing Co.
180 Dally Planet Building,
Superman Drive,
78555 NY.
Dear Mr. Kent,
I am returning with this letter a recent shipment of 300 imprinted t-shirts (order # 234A5) along with a copy of our original purchase order.
As stated, the logo should be reproduced in our corporate logo in color. The logos on the t-shirts you sent are in black, which is unacceptable.
Please make the necessary corrections and send another shipment of 300 t-shirts (with the correct logo colors) by the 10th of March. We need them for a company event that starts on the 20th of March.
Thank you for your prompt attention on this matter.
Sincerely,



Miss Tony Braxton
Head of Purchasing
---
Return from Sample Business Letter to Business Letter Format
sample.