Free Downloads

I did a test with an advertiser last week and it has proven to be succesful.
The advertiser has decided to sponsor the following 2 Business Letters eBooks, One Business Letter MP3 and A Business Letter software. The total recommended retail price (RRP) is $60.
Why is it Free?
Because it is a win - win - win situation.
I get paid more.
For me, if I sell these on my own, I am able to only sell one product for every 2,000 people who see my offer. With this model, I get paid less for every download, but I sell more as it is paid by the advertiser.
The Advertiser gets to showcase their product/service.
Getting people to view advertising is very difficult. By sponsoring the free download, they ensure their ads are seen. This is just like the free apps you download for your iPad or iPhone.
You Get $60 worth of products for free.
For you, you pay nothing to get $60 worth of products.
How do you get the free download?
All you have to do to get these paid products for free is to complete one short survey and you can immediately download The Business Letter Pack.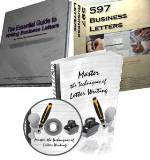 Download the Business Letter Pack for free.
Contains:
The Essential Guide to Writing Business Letters (e-Book)
597 Business Letters (Software)
Master The Techniques Of Letter Writing (e-Book & MP3)
Get The Business Letter Pack Now
---
The Business Letter Pack
The Essential Guide to Writing Business Letters
597 Business Letters
Master The Techniques Of Letter Writing (eBook & MP3)
In this book and MP3 you will learn:

Introduction To The Art Of Letter Writing
Understanding the Fundamentals of Letter Writing
Learning the Concept of SAP
Getting Content for Your Letter
Draw Step By Step Outline
10 Important Points To Make Impressive Letter-Body
Tips To Create Your Letter Interesting
Art of Writing Important Letters

RRP $20.

Get The Business Letter Pack Now