Using business letter templates
Writing Business Letters has Never been Easier
If your writing skills are very limited, letter templates are a good way to write a business letter.
If you have access to a large collection of Business letter templates, you can write a good business letter in a matter of minutes. All you have to do is modify the content to suit your situation.
Here is an example, if you are going to decline an offer of employment because you have decided to start your own business, you can use my example and modify it to your situation. This will be how it would look like (modifications are in RED):
---
Dear Mr. Whomever,
I am most appreciative of your offer of employment. It is unfortunate that your offer arrived when it did, as I have just started my own franchise business. The opportunity was presented to me a week after our interview. Should my situation change, I will be in prompt contact with you. However, I believe the franchise business, which I have chosen to associate with, holds great promise.
Thank you for your time and consideration.
Very truly yours,
---
Ready to Use Templates
597 Business Letters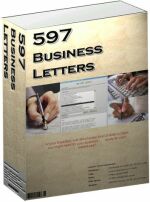 As the name suggest you get for 597 easy to use templates to quickly and easily write a business letter.
Here is a list of the templates they have in Alphabetical Order.
It is as far as I know, the cheapest business letter templates available. At 2 cents a special price 1 cent per template, a very good value for money as well.
Windows only.
Can't find a template?
Sometimes, you may not be so lucky and you may not be able to find a Business letter template that is very similar to your situation. What I recommend you to do is this:
List out the topics you want to cover. Do not worry about the order.
In each topic, list keywords, examples, arguments and facts.
Review each topic in your outline for relevance to your aim and audience.
Cut out anything that's not relevant.
Find a few templates that somewhat fits your situation.
Sort the information into the best order for your readers.
Obtain parts of the templates that fit into the order that you just arranged.
Modify the content to suit your situation.